Not to Do – Create Poise – and Dance
Today's lesson was about creating my poise before moving
And then leaving it be – not interfering with it.
Not adding
Not taking away from it
Not to do.

As an Alexander Technique specialist, that translates to having one's posture and then not locking up in order to hold it but to continue to project my Alexander Directions*, so there is a natural upward flow along the spine without stiffness.
It's also true about connection; not to "do" it, not to seek it out,

But to be balanced in myself and then I can sense where my partner is,
Being in balance, my partner can lead me and I can respond.
Alexander Technique teaches non-doing:  the right thing does itself when we stop interfering with the natural movement and alignment of the body. In dance, extraneous movements throw my lines off.  My focus today is to create my poise and then maintain it. Easier said than done, but that is my task:  Not to react by throwing my head even a little bit…not to collapse…not to take away from myself what is rightfully mine. My spine going up, my head releasing at the upper point of my spine, my shoulders draped on top of my torso, and always, my very free neck. And dance!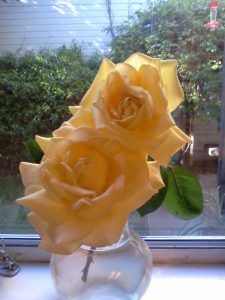 "Not to do" is one of the core principles of the Alexander Technique. Inhibiting fear and excitement overreactions and allowing the body to expand into multi-dimensions in movement through space. Control, freedom and harmony.
*Directions are a specialized way of thinking into the body in movement, taught in the Alexander Technique.