How Did Hunters Sit Still for so Long? Didn't it Hurt? How Do You Sit for So Long? What to Do?
Every now and then I wonder how early hunters sat silent and still for hours on end in their duck blinds, or crouched silently in the bush waiting for deer to come down the trail.
Didn't their bodies hurt?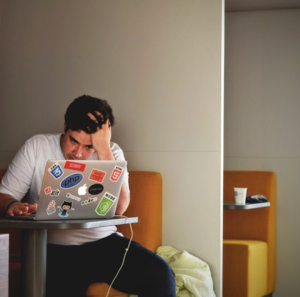 Never moving
Barely breathing
That's what a lot of people do today, hunched over a desktop at work…or sitting in the dark duck blind of Starbucks using the wifi and typing away.
Hours and hours, day after day. Then, wanting to have good posture, taking their poor tired bodies and pull them upright, adding yet more tension to tired muscles.
Sound familiar?
A couple of weeks ago I sat enmeshed in my computer for days then flew for hours to a three day seminar, and paid the price. I woke up the morning after my return and my back felt stiff like I cannot remember. It was an object lesson in how much I need movement in order to feel like myself, in order to feel well.
Mostly, when I tell people what I do – which I did at this seminar – they pull themselves ramrod straight. Suddenly looking around the room, everyone was taller, but something was also wrong.
Do you know what it is?
It's tension. They were stiff as boards, tensing up to come up higher up in their chairs. And I can tell you from years teaching the Alexander Technique; adding tension or pulling oneself up is not the answer.
We need more movement. My back told me so and my dancing feet tell me, too.
Being static and sitting too long isn't good, we know that, but pulling on tight places to have good posture doesn't last very long, either. It's too much work! In fact in the the time you've taken to read this, all those people would've long ago slumped back down.
That's why I love movement, it's what we are designed to do. Even standing "still" on your feet, there are tiny micro-movements. Try an experiment: stand up, put your feet close together, and close your eyes.  What do you notice? What do you feel?
If you're wondering how movement using Alexander principles can free you to be taller and more poised with ease, click here for details on a new type of group class. It's freedom in movement with Alexander principles, it's fun and it feels good.
The November class starts this Wednesday!  Contact me today if you're curious!
Peace,
Dana
Photo by Tim Gouw from Pexels