Thought for the Day: Soft Neck, Long Neck
Today's idea came from a lesson that I taught to a Latin dancer.
I'm going to drop in the same thought I gave to her:  to let my neck be soft and long. l want to drop it in as often as possible during the day, and in the "slow" steps, the grounding steps, in every dance.
It will be slow practice but that is the way to create change.
All day long, that's my thought for the day. Soft neck, long neck.
I'll report back here later….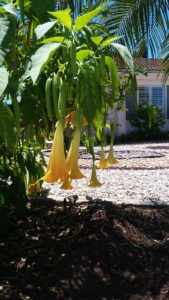 I danced…and then I remembered to release my neck…
Interestingly, once I started to remember to drop in the order to my neck to release, I started remembering to do it very frequently. It was the first time or two that took conscious thought.
The thought I gave was: soft neck, long neck… and then a pause…and a breathe…exhaling and letting that softness roll through my spine all the way to the tailbone. I thought down my spine and also up out of my head.
I looked in the mirror and my neck was very, very long.
One of my dance friends says because I'm tall it's even more important to show the "flower" of the spine and neck. The trick is finding a balance between release and having enough tone in my neck to be long while dancing.
I have been playing with the idea of a pendulum point as I'm moving. Tomorrow I'm going to play with the long neck all the way down to the tailbone and moving my entire spine, neck and all, like a gyroscope in space.
I also held my own hips so they move as one with my body instead of moving separately and swiveling laterally up and down, side to side, or rotationally around. It helped me stay deep into my legs, in Tango, and conversely I could feel them moving more freely as the hip and leg connection was free.
At the end of practice, I helped a lady whose neck is generally forward of her body while she dances. It was jaw-dropping to hear her tell me that "it's from her early teen years, hiding her developing figure." That was at least 50 years ago and the pattern has been in her neck all this time. Freeing her neck feels so good to me; it is a moral imperative, to free the young women inside of her who's been crouched down and curled over all these years, in order to be safe on the bus ride to school.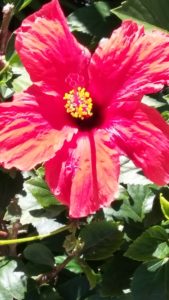 We truly are mind-body, body-mind, unities. We are whole beings with hearts and souls connected in our body intrinsically. I told her, "tell your neck, no more buses. It's okay to let your neck be free."
Here's to freedom.
Namaste,
Dana
Learn more about the Alexander Technique and dance, here.