Hello my friends,
It was a hot and sunny day. I'm laughing because that's a silly way to open a blog post or email.  Snoopy sitting on top of his doghouse used to write, "It was a dark and stormy night."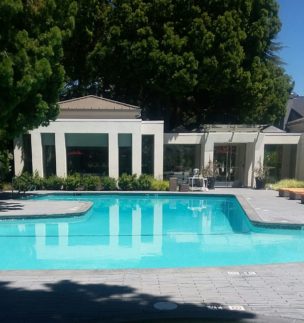 The whole Bay Area is in the middle of an extreme heat spell and I'm enjoying a fringe benefit and making silly jokes out of the sheer joy of being alive.
I'm cleared to dance and my feet wanted to get on the dance floor, but I'm home recovering from oral surgery. I walked Rafi, my dog, and we went past the swimming pool.
A thought came; I'll just stick a toe in the water and then dance in the swimming pool.
It's been so long; months, and starting back with Quickstep was foolish. This was such an easy sell: Dance in water!
It is so hot outside that the pool was warm; there was no shock, going in.
The water became my partner, pressing against my back as I tried a Feather step, holding me upright as I warmed up with Change Steps. Everything was slowed down. I used the water to feel my way through patterns in dance.
My project is to analyze my own movement now, looking for ways to use my body better and not reinjure my foot. The water held me, suspended as I thought of using my sides.
Reminding myself that it's easier to dance in "the Shape," and letting the other people who were poolside wonder what was going on. Thinking of my spine and noticing my head was "just there."
It was truly a scorcher and I suddenly thought of my nice, floppy blue hat over on my lounge chair. I went to the corner of the pool and pulled myself up and out, burning the heel of my right hand in the process.
Lesson learned! Splash water on the edges, first. It's been too long since all the months and years I spent swimming, growing up, but it all comes back.
I tried letting my sides move and the feet come under. I couldn't push the floor of the pool too hard if I tried; I'm too buoyant. I noticed moving around my spine is different with the resistance. It's fascinating to move slow motion, suspended, and dance.
The side of the pool was my barre. I tried releves, plies, and exercises for my legs.
Dances in Water!  That's me.
What a nice way to dance outside of dancing.
Feeling the summer glow, getting movement going in new ways.
Have you tried dancing in water? What was it like? Did you discover anything?
I played with my body moving and footwork falling into place. Frame in the shallow end was revealing, I stood half out of the water and felt a bit self-conscious. No matter, life's too short to worry about what they think. They're busy eating and I'm wondering if the food is good…oral surgery leaves one hungry.
Swimming a few laps felt great. Getting the kinks out, remembering how I used to swim like a fish. What is within us can reemerge.
Summer is here and I've found a way to explore movement without weight on my feet. Expanding dance outside the studio because we are mind-body unities and a dancers, dances. Everywhere. Fingers dance on the keyboard to say hello, to you.
I'm an Alexander teacher and I meld dance and Alexander Technique with all my students. It's who I am; it's what I do.
Life is movement and there's a dancer in all of us. Even standing still, there is movement, within.  Where is the dancer inside of you, dancing, today?
Join Dance without Limits and enjoy my free audio guide for freedom and ease in your neck and back.
Dance where you are
And dance without limits,
Dana
P.S. I offer group classes and private lessons. Contact me if you'd like to chat.