Alexander Technique and Parkinson's Disease/ Mind and Body in Movement
Someone with Parkinson's Disease said something telling.
Some time ago, he told his doctor that he "couldn't connect his brain and his foot to make his foot move."
He is looking for ways to keep mobile and be in balance. One of his arms was also stuck in a bent position and his hand cramped. He said it was going on for years.
My heart goes out to someone who has trouble moving. I wanted to help him find easier ways to move and be in balance. I showed him how to put his head weight over his foot as he stood still, and then again, in walking. He learned to notice and place his head weight over his foot.  His attention was now focused on a different way to think about his body as he moved.
When he was able to consciously put his head over his foot while walking, his balance improved and he could feel his feet more clearly.
Have you ever felt the weight of your head? Try holding a gallon jug of water high up in front of your body, near your head. That's your head weight…!!!  It may even weigh a bit more than that.
Imagine your head being off balance; it'd be hard enough to hold it up if you didn't have an illness that makes it difficult to move.
So we worked, one foot at a time: Right. Left. Walking. Finding the arch of his foot. Finding the crown of his head. He could feel his feet, and he could control them.
We went on, and he learned a way to articulate his feet and connect that with his head and body weight coming to first to one foot and then the other.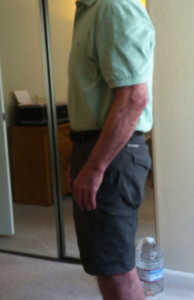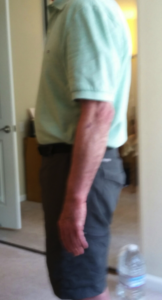 His bent arm also released.
Here is the start and end of his lesson, with his kind permission.
This was the beginning of his journey with the *Alexander Technique. As he continues, we will work towards even more freedom and lightness in movement. I cannot promise results but you also don't know till you try.
AT was shown in a published study, to help people with Parkinson's Disease improve movement.
If you'd like to keep hearing from me, please sign up here! Contact me to inquire about lessons, there's a contact form right here :).
Dana
*Alexander Technique (AT) helps re-patterns movement by connecting thinking with muscular activity.  People learn to use their mind to release tension and move differently. They unfold. Posture improves. Movement is easier. Smoother. Lighter.