Hello friends,
I wanted to share a little story with you.
It was almost Christmas Eve. I was down like the day; gray, cold and without a single ray of sunshine.
To my surprise a box with flowers stood upside-down at my front door. I was sad and the box was light. How strange that in a dark hour of feeling empty, a flowerpot arrived that was also bare.
It was filled flatly with gray-green moss; there was nothing to see.

I read the card. My dear friend, Stacy, sent me a flower – only it is yet to grow. She sent just a bare pot – or so it seems – with gray-green moss on top and no weight to the plant.

I found the accompanying note.
It said that if you stand it in a place with bright light, keep it moist and give it time, a beautiful Lily of the Valley grows, fragrant and beautiful.
I couldn't help thinking that the flowerpot was like this day when all seems barren and wintry; devoid of hope. I thought that perhaps the earth is bare in order to allow the flower room to push its head up above the earth. It is empty so no dead plants will block the way to fulfillment, raising a fragrant face to the new light in a new year.
The card inside continued its description of Lily of the Valley:
Signifies a "return to happiness."
Some friends are like angels with invisible wings.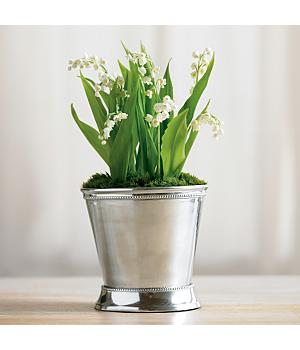 As the fox said to the little prince: "It is only with the heart that one can see rightly; what is essential is invisible to the eye."
Thank you for seeing me, my friend.