Melting on the beach in Maui
Hello my friends,
Welcome….come on in and enjoy some of the sweet end of summer while we can. I just came back from Hawaii and have lots of good energy to share.
I woke up this morning thinking about Maui.
I woke up feeling the Island air and how soft it is. I can still feel it, caressing my skin. It is so warm that it melts me, but not so warm that it burns. It is soft, it is soothing, and I could drift away into it, into the Zone.
Melting into nothingness, feeling my body float away till there is nothing left and I'm just floating in space; that is the experience for me of sitting quietly out by the ocean's edge.
Two days ago, I was lying under a tree on Ka'anapali beach. The breeze was warm and gentle. I drifted off to sleep, and when I woke, it was to consciousness but not to any particular sensation.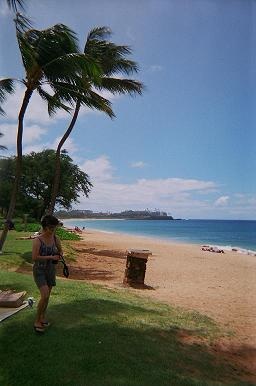 Can I do Constructive Rest while floating off in a Hawaiian breeze?
In that floating feeling, how does one find a sense of direction?
I notice that I can think very lightly up my spine, just letting it be and yet knowing it is there.
Thinking lightly down my legs, out the heels, but not pulling, not pulling at all.
I notice that my back widens out the shoulders in either direction. I send a thought going up my neck and notice my head is lightly poised on top.
It is as if I am floating in space. Nothing is pulling, yet I sense that there is a space that my body takes.
I can think in a direction in my body, in whatever position I may be.
I can think of Maui and the warm, Hawaiian air and let it fill me again, all the way here in the Mainland.
That is the skill, of thinking in the body that is taught in the Alexander Technique. Like any skill, it takes practice. This morning I can still feel Hawaii and the ocean in my body. What a good skill…it is so worth practicing…
Thanks for stopping by for a visit, or in Hawaiian, Mahalo!
Aloha,
Dana