Pineapple Keeps Growing and Growing
Hello my friends!
Today was the day for all things green and growing. I wanted to plant the pineapple, but before taking that on, I decided to patch the big bare spot on the far end of the lawn.
I'm sure you know how one good thing leads to another…. While I was hunkered down patching the open spot, I started looking more closely at the rest of the lawn. I discovered that it's true; what you look for, you shall find. I looked and I found…more bare patches! In the end, I patched almost half the lawn. It was a beautiful day and I didn't mind, not really.
When I came inside I looked carefully at the pineapple. It was green and alive, but the roots seemed to have plateaued in their growth. It was time.
I planted it in a flower pot in regular potting mix and set it back in its spot on the kitchen counter.
I am sure it would prefer the iron rich, red dirt of Maui. The best I could do was black potting soil with those little bits of white, spongy fake rock mixed in it, in a dark red pot.
All it needs to do is root and grow and be alive a month from now and I'll be happy to feed it a cup of liquid fertilizer, per the instructions. I wonder what type it really needs….or does it matter, given that the true need, the warm Hawaiian sun, is absent?
Somehow my little crown of pineapple heaven keeps on going and growing. It is the Energizer Bunny of pineapple. I swear the leaves are greener this evening, just since planting it this afternoon. Whenever I see it, I smile.
We are far from Maui but it is growing where it is planted.
There's a lesson for me.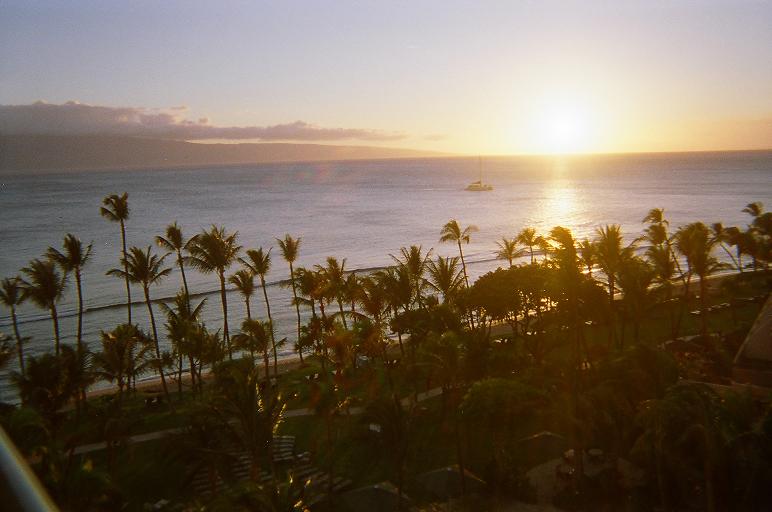 Aloha,
Dana