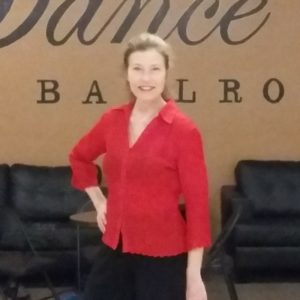 I've been dancing off and on my entire life. My father stood me on his stocking feet as a tiny child, keeping time and dancing to Viennese Waltz. I danced in free interpretation, free movement dance classes all through my childhood, and as a teen, danced International Folk Dance five and six days a week. Movement and dance is part and parcel of Me. I dance therefore I am…I am, therefore I dance.
The epiphany about melding Alexander Technique and dance came in 1999 when I started taking private Ballroom dance lessons from Rex Lewis at the Imperial Dance Club in Redwood City.  He started talking about moving the head through space and that reminded me of my Alexander Technique lessons and training, over a dozen years before, and all the freedom and wonderful feeling in the body that gave me. Nose over toes, he said, and I knew where my head was over my feet and it woke up the Alexander awareness within my body.
That day when Rex spoke about the head is burned into memory.
It reminded me of my first introduction to Alexander Technique and the feeling, like floating as I walked. Effortless. Weightless. Alive.
I went back to Alexander lessons and felt better on the floor; more confident in movement and it helped my balance. It felt good in a way that's hard to describe. Good.
I was inspired to finish training as an Alexander teacher and work with dancers, graduated and went into private practice in 2002. I also continued dancing and training.
I began experimenting and applying Alexander Technique to improve my dancing. I began using what I found with all my students, dancer and non-dancer alike, and it works.
Applied Alexander® for dancers is a way to free your body to dance without limits.
"I found Alexander technique very helpful – it's very subtle to position head so body is most free.
I like the feeling of freedom in my spine. That's cool."
~ Yuliy Sannikov, Economist and Dancer
I like using my skills in Alexander Technique to solve dance problems for dancers, to help them be better dancers.
There is a dancer in all of us. Be free. Be fully you. Be the dancer inside. There is an aliveness inside, even standing "still."  I help people find that life and freedom and live from there.
Three years of training, one and a half years on staff as a teacher-trainer and 16 years in private practice later, here I am: a dancer and an Alexander teacher. I'd love to talk with you; please feel free to contact me.
" Dana teaches students to find a place of quiet in the body, and in connection with it, the mind…I have found tools for releasing body tensions, sloughing off the residue of habit and physical injury, to find the underlying natural posture and movement.  A benefit to my dancing and my dance students."
~ Shawne Neeper, Ballroom Dancer, Science Writer, Silicon Valley
---
Bio
Dana Ben-Yehuda is a movement and posture coach, with 16 years experience helping people out of pain and to move with ease. She is a Certified Alexander Technique practitioner in private practice and an avid, competitive ballroom dancer. She loves empowering dancers for freedom in the body, poise with ease, and pain-free dancing. Dana first encountered the Alexander Technique while earning her BA in Acting/Theater. She was a working actress in Hollywood and Israel.
Education: BA, UCSC, Theater/Acting, Professional training: The Nina Foch Studio, Academy of Stage and Cinema Arts (ASCA), San Francisco Conservatory of Music (Classical Guitar), De Anza Community College (Music theory).
Entrepreneur: Crystal Net Corporation, 1995 – 2001, marketing and licensing technology for video compression and streaming video over the Internet.